Monitor your home or business from your phone and/or laptop anywhere in the world!

View live broadcast or search recorded data in your main location or remotely

Control devices live or remotely (door, lights, alarm, etc)

Remote Monitoring services available from (Tuniss Computer)

Ptz Camera Control (remotely and live)

Professional Grade Surveillance System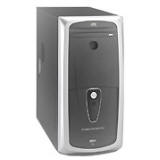 4 CHANNEL DIGITAL VIDEO SURVEILLANCE SYSTEM
THIS PACKAGE INCLUDES:
CPU Processor: INTEL Core 2 Duo 2.93GHz
ASUS System Board, 1 GB DDR2 Memory
1 TB Hard Drive - 3 Weeks of Recording (varies upon location and traffic) upgradable.
Onboard Sound, 10/100 Onboard Network
Windows 7 Pro Operating System
Keyboard and Optical Mouse
DVDR/W Removable Storage
Mid ATX 450W Case
4 Channel Capture Card with 120 Frames Per Second (controls 4 Camera)
RS485 Converter (PTZ Interface)
Alarm Inputs/Outputs Relays
Video Out (sequential Switching)
ATI PCIX Card
PRICE AS LOW AS: $1600.00 +tax
   
*Cameras not included.
**Monitor not included (add $229 for 19" LCD Screen)
***Power Supply Not included (add $100 for 24v 4 cam power supply)
****Product's  picture may be different due to different models.  
All systems require 60% deposit upon order System
Installation for the Surveillance System Available all Over The United States