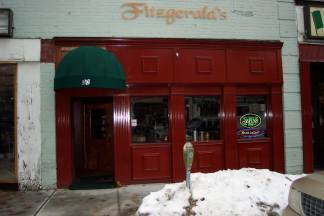 A Friend
"Through these doors pass no strangers
Only friends who haven't met"
Fitzgerald's is a tavern in Mount Kisco, offering lunch and dinner seven days a week. Through-out the 1900's, this storefront has been the host to a number of successful restaurant taverns; The Park Royal, Finns Tavern and Flanagan's Tavern. With the turn of the century the owners of Fitzgerald's have created that old fashion Manhattan style tavern serving freshly cooked lunches and dinners served The Old Blarney Stone way...fast & friendly.
Easy Ordering
When Fitzgerald's is busy, they are BUSY. Restaurant Pro Express allows you to place orders from any station. Once the food and drinks are entered, they automatically print in the proper place -- food in the kitchen, drinks at the bar. According to Jen, a waitress at Fitzgerald's, "The order printing is a lifesaver. On a crowded night, the bartender usually has orders being screamed at him from every direction. I don't have to compete for a spot, my orders print next to him and are ready for pickup a couple of minutes later."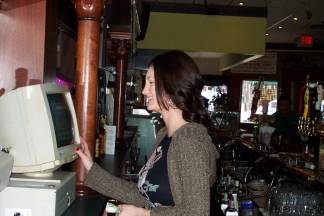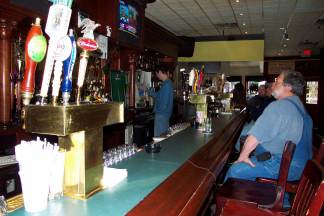 The Bottom Line...and More
Fast and accurate checkout isn't the only benefit of a point-of-sale system. Restaurant Pro Express tracks the who, what, where, and when of how each item was sold. Reports can be generated showing your sales figures, low stock levels, waiter and waitress tips, best sellers, busiest times and much more. Commenting on the reports, Fitzgerald's owner Kevin Dignan notes, "This really makes it a lot easier to see how much money i'm bringing in. It's easy to run reports that show me how much i've brought in, how many wings I sold and which server is selling the most."
A Little Help from our Friends
It's important to have a solid system installed in your bar or restaurant. However, people will have questions on even the most stable system. According to Kevin, "PC America has nothing short of friendly, informative and quality service. Sometimes we need help on how to use a new feature, other times we may need advice on how to set up new inventory items. Our questions have always been answered quickly and thoroughly. It really is invaluable having this help available when we need it."