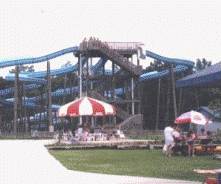 18 Acres of Fun
Known as "Northwest Indiana's premier water park," Splash Down Dunes Water Park first opened its gates in the summer of 1994. Each year since then has held surprises for loyal fans. Boasting both The tallest water slide in Indiana and the largest wave pool in the Midwest, Splash Down Dunes never has a problem drawing in a crowd.
Keep it Simple
Splash Down Dunes employs a large number of people. According to owners Paul and Debbie Childress, they needed "a system that is simple to use. Most of our staff are here strictly for summer jobs, the workers this season may be all new people. We can't spend lots of time each year training new employees, we need to keep it simple." The easy-to-use screens and simple check-out procedures give Paul and Debbie exactly what they want. "Now that we have Cash Register Express, our employees require next to no training. A group of five cashiers can be ringing up customers with less then two minutes of training."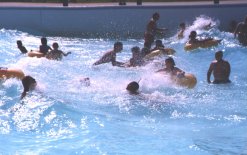 We Sell Fun, Not Inventory
A typical point-of-sale program is used to ring up items by their scanning bar codes. Cash Register Express does work with bar codes but also has a touch screen interface built in. Non-tangible items (or items without bar codes) may be sold by touching the item's button. After seeing CRE, Debbie noted that she and Paul "sells fun, not inventory. The touch screen interface is the perfect solution. My cashiers don't need to learn dozens of item codes for each type of admission or special we offer. Now they can just touch a button -- *bink*, child admission, *bink*, adult admission, *bink*, end of sale."